Aaton-Cameras smart grip handle
Intelligent
wooden grip handle

for cameras
Including remote & advanced functions - Delivered with free iOS app
Available for RED DSMC 1/2
1060*,- Euros
*Without VAT - ExWorks
You dreamed about it, Aaton-Cameras and FoolColor revive the iconic wooden handle of Aaton cameras.
Carved from walnut like the original so copied, this new creation incorporates a Bluetooth connection to communicate with an iOS device which allows you to program the accessible functions for each camera. At the moment the handle and the app are compatible with RED DSMC 1/2 cameras.
Equipped with a joystick, a 5-position switch and three buttons similar to those of the beautiful Aaton cameras, the smart-handle-Aaton-Cameras comes to life thanks to the FoolGrip App designed by Mikael Lubtchansky of FoolColor.
The App is available for free on the APPLE AppStore.
The handle is supplied with a cable allowing it to be powered and connected to a RED DSMC 1/2 camera
https://fr.wikipedia.org/wiki/Noix_de_Grenoble
FoolGrip App designed by Mikael Lubtchansky, FoolColor - foolcolor.net
Android version under development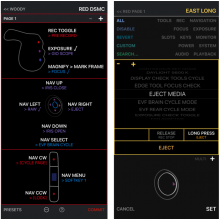 Aaton-Cameras smart grip handle controls the functionality of cameras.
It features 6 position joystick, a scroll wheel and 3 user-assigned function buttons.
Configuration
Made in cooperation with Mikael Lubtchansky - Foolcolor, the handle is configured by Foolgrip mobile app via Bluetooth connection.
User can assign various functions to the handle, save them and more (see details in below FAQs)
The app is available for iOS at https://apps.apple.com/us/app/id1494386404
Android version is coming.
QuickStart Guide - Issue September 2020 >> Download
Power
It get powered via the camera and is delivered with a specific cable
FAQs - Specifications
Foolgrip iOS app
Firmware upgrades are managed by the app (see the below quick start guide for more details)