Post IBC 2013
Transvideo on set

Director: Clint Eastwood

Camera operator & Steadicam: Stephen Campanelli

CineMonitorHD on Steadicam

Indestructible 5" Rainbow & 6"5 RainbowRF

Video credits: Liz Radley

Distributor of the year

IBC 2013 - Jebsen Industrial Technology Co., Ltd has been voted best distributor of the year by Transvideo. We thank the whole team for their support and promotional work of Transvideo products in Hong Kong and mainland China.
CineMonitor

HD

6

X

-SBL
Ordering code, delivery date and upgrades
The new 2000 Nits SuperBright monitor CineMonitorHD6 X-SBL received a warm welcome during IBC 2013.

We take order - see delivery date and prices below.

Delivery from mid October 2013

CineMonitor

HD

6

X

-SBL

-

includes VirtualHorizon2

-

Learn more

P/N 917TS0110 -

CineMonitorHD6 X-SBL

- 4970,-€

P/N 914TS0027 -

Upgrade from CineHD6 SBL Evo.

- 1500,-€

P/N 914TS0028 -

Upgrade from CineHD6 eSBL Evo.

- 1200,-€

These upgrades are for CineMonitorHD Evolution with SW7 only.
For older software versions, please contact customer.service[at]transvideo .eu
A discount of 500,-€ is granted for monitors which already feature VirtualHorizon2.

Other upgrades

P/N 914TS0023 -

Upgrade eSBL for 6" and 8" CineHD SBL

- 440,-€

P/N 914TS0024 -

Upgrade VirtualHorizon2 for CineHD Evo.

-

700,-€

500,-€

P/N 914TS0025 -

Upgrade CineHD Evo. SW6 to SW7 incl. VirtualHorizon2

-

1100,-€

900,-€

P/N 914TS0026 -

Upgrade CineHD Evo. SW6 to SW7

-

800,-€

600,-€

SBL: SuperBright with LED backlight - eSBL: enhanced SBL (with anti glare)

VirtualHorizon2: electronic bubble level with shock & acceleration compensation (only for CineMonitorHD with SW7)

What's different between SW6 and SW7 -

Click here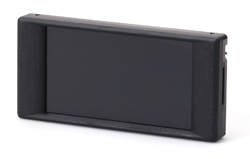 At last IBC 2013 we unveiled the concept of the new
StarliteHD
, a
5" ultra-slim OLED touch-screen
monitor.
This lightweight monitor (180g - 0.4lbs) will be able to record rushes in H.264 onto a SD card.
StarliteHD - Delivery end 2013 - Price 1470,-€ -
Learn more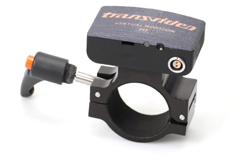 We also revealed the
VirtualHorizon

3

™
.
This
remote electronic bubble level
attaches anywhere and transmits via Bluetooth to your
CineMonitorHD Evolution
(SW7). The monitor requires a bluetooth interface (P/N 917TS0112) that has to be installed at the factory.
VirtualHorizon3 - Delivery end 2013 - Price 1450,-€ -
Learn more
CineMonitor

HD

10

SB Evolution

"special edition"

At only 2990,-€

This special edition offers the same features of our latest

CineMonitorHD10 SB Evolution

(except the CVBS output and the power output).

This SuperBright (over 1000Nits) 10"4 mutliformat HD/SD monitor is ideal as a medium size field monitor, on crane or as a Director's finder.

Only available online
P/N 917TS0054SE - 2990,-€
Limited availability: only 20pcs in stock

Refurbished & demo units

Up to 30% discount

New refurbished products are available online, such as 3pcs of

CineMonitor

HD

6

SBL Classic

. All refurbished products are dully tested and certified according to our quality standard. We include one year warranty.

We also offer 2 demo units of

CineMonitor

HD

12

3DView S

. These are very clean units that only have few hours of work. We include 2 years warranty.

Reburbished and demo units are only available online. Limited availability.
Also available: refurbished 10", 12" and 15" CineMonitorHD Classic and Evolution, 3DView S3D monitors, Titan packs and Film monitors.