Focus on the new StarliteRF-a
Newsletter
March 2017
In this issue

Products News

StarliteRF-a, the unique wireless monitor-recorder with ARRI Alexa-Mini and Amira key functions camera control

Special promotion CinemonitorHD15 Evolution

Update V2.0 available for Stargate

Customer Stories

Jens Piotrowski SOA, SOC
About CineMonitorHD X-SBL and StarliteHD

Upcoming Events

CABSAT March 23-27th, Dubai
NAB April 23-27th, Los Angeles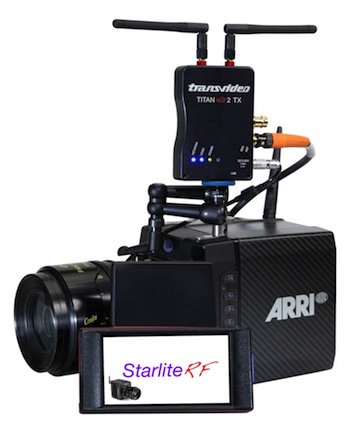 StarliteRF-a, the new Transvideo wireless monitor recorder with built-in remote control of ARRI's Alexa-Mini and Amira cameras
Following the incredible success of the StarliteHD5-Arri, Transvideo presents the StarliteRF-a. It's the unique 5'' touch-screen monitor-recorder with a built-in wireless receiver specially adapted to control the key functions of the new ARRI Alexa Mini and ARRI Amira.
Based on the StarliteRF core technologies , it's a top class wireless transmission system with a range of 200m without latency. Thanks to its 380 Nits, the screen of the StarliteRF-a gives you an excellent visibility even in bright conditions...
Free of cables, lightweight and with all the reliability, accuracy and fine engineering that Transvideo build into their products, it is the perfect choice for Directors, Directors Assistants, Focus Pullers and DOPs.
Some specifications
Video input / output : 1 x 3G/HD/SDI
Display : AMOLED - 5 inches
Pixels : Picture Zone 1280 x 720
Brightness : 380 Nits
Contrast ratio : 3400:1
Viewing angle : ±170° H & V
Built-in frequency : 5.8GHz band
Power : 5 to 29V DC (-1, +2) Lemo2 mini
Power cons. : 12W
Battery socket : Sony type L
Dimensions : 144 x 128 x 40 mm
Weight : 350g
---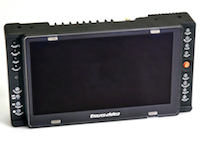 Update V2.00 available for Stargate
This update requires the V.150 installed.
Firmware V2.00 includes record features and other new functionalities. Register your product and donwload the update at www.transvideo.eu/support-stargate. Please read update requirements before processing.
---
Special Promotion on CinemonitorHD15 Evolution
7 "as new" units available at the price of 2500! ex.Works
Package includes a U-Shape Holder. Products were used for a demo of few hours. All units are duly tested and covered by 1 year warranty. Warranty can be extended to 2 years by registering the products on www.transvideo.eu/register-my-product within the first three months of purchase.
Send an email at sales@transvideo.eu for more information.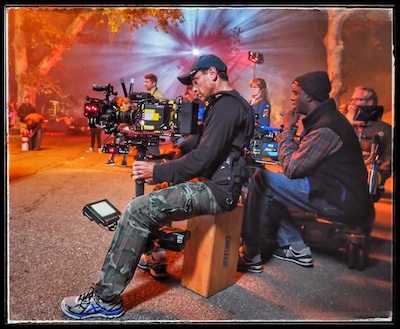 Thank you Transvideo for making tools that I can count on. Merci! Jens.
I've been using Transvideo Products since the mid 90's. First as a camera assistant and focus puller and now as Camera and Steadicam operator. They have accompanied me on many shows, documetaries and commercials. The LCD monitors, Transmitters and Receivers, all made by Transvideo have performed flawlessly under the most demanding conditions.
My current monitors include the Stralite HD, the Rainbow HD and my favorite the Cinemonitor HD6 XSBL, the workhorse for the Steadicam community worldwide. There is not another monitor on the market that meets the X-sbl in terms of features and manufacturing. Beginning with the unmachted 2000nits of brightness, the gyro compensated level sensor, the host of image adjusment and additional features.
All put together in a CNC machined housing with no fans or openings for dust or moisture to enter. Truly well engineered and made in France. This and the outstanding customer service that Transvideo provides even years into the use of their equipment makes this company special in my opinion.
Jens Piotrowski, SOA, SOC, http://www.imdb.com/name/nm0997752/
CABSAT
Marc 21-23 2017, Dubai - World Trande Centre, Booth H2-20
A major event in the digital media industry, Cabsat attracts every year major players in the broadcast, satellite and digital media sectors. Cabsat is the most important event in Middle East Area, bringing together more than 15 000 visitors.
This year Transvideo will be glad to be present and meet you on Amaranthine Stand H2-20
NAB
April 22-27, 2017, Las Vegas - Convention Center
The NABShow is the largest international event dedicated to technologies, equipment and solutions for electronic media, television, radio and production. With over 95 000 visitors from more than 150 countries, it is the ultimate marketplace for entertainment and digital media.
Come and visit us on booths :
AbelCine - Booth C8215
The Tiffen Company - Booth C6019
Transvideo Intl (independant reseller) - Booth C7046
ZGC Inc./CookeOptics Limited - Botth C5414